Fourth-seeded Jelena Jankovic found nothing to her liking Saturday afternoon at Arthur Ashe Stadium during her U.S. Open match. She was bothered by the wind that gusted to 22 miles per hour, and she would scream to her box, "I can't do anything." She complained about a sore ankle that has bothered her most of the summer, though when it was suggested maybe Jankovic shouldn't play, she scowled and said she'll always play.
So in a women's draw already missing its biggest presence, Serena Williams (foot injury) and Williams' biggest nemesis (Justine Henin, elbow injury) it seemed that maybe the fourth-seeded Jankovic might find an appropriate spot to win her first major tournament.
Instead, Jankovic was knocked off the court by Estonia's Kaia Kanepi, who had made her biggest impression at a Wimbledon where she was a quarterfinalist. This time Kanepi finds herself in the fourth round of the Open after her 6-2, 7-6 (1) upset over Jankovic. Kanepi, seeded 31st, said recent improvement in her footwork helped her deal with Saturday's blustery conditions.
"I have to be ready when I prepare, that I move a few more steps," Kanepi said. "I don't know which direction, but my feet have to be in position early."
Instead Jankovic used the weather as the excuse for her quick and sullen departure. "It was really tough to play tennis,' she said. "It's tough to serve, tough to hit the balls. The balls move all over the place and I had a really hard time over there. Unfortunately, I lost."
On the other hand, 14th-seeded Maria Sharapova was almost imperious in her 6-0, 6-0 dismissal of 18-year-old qualifier Beatrice Capra. Capra, who is working under the guidance of Chris Evert at the Evert Tennis Academy in Boca Raton, Fla., admitted she was a bit overwhelmed by the occasion as well as Sharapova's focused and powerful game. Sharapova has now won 12 of 14 matches she's played since Wimbledon, where she gave Serena Williams her toughest battle of the tournament.
And sweeping away Capra, who said she enjoyed the experience and hoped to be back next year with a better grasp of what it takes to play in a major tournament, set up one of the most anticipated women's fourth-round matches, as top-seeded and 2009 runner-up Caroline Wozniacki, an equally unchallenged third-round winner, won 6-1, 6-0 over Yung-Jan Chen.
-- Diane Pucin reporting from New York
Jelena Jankovic
Jelena Jankovic
Jelena Jankovic
Jelena Jankovic
Jelena Jankovic
Jelena Jankovic
Jelena Jankovic
Jelena Jankovic
Jelena Jankovic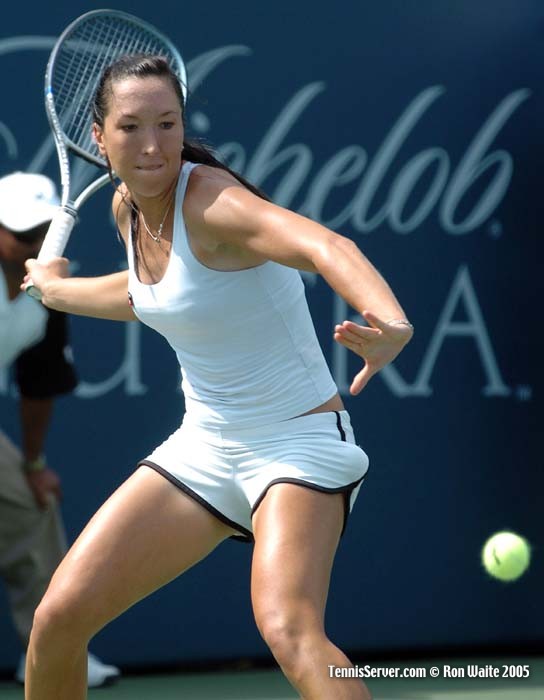 Jelena Jankovic
Jelena Jankovic
Jelena Jankovic
tennis oops
Jelena Jankovic
Jelena Jankovic
Jelena Jankovic