Rafael Nadal is going to need a new goal.
The 24-year-old Spaniard capped his career Grand Slam on Monday night in New York, winning a rain-delayed U.S. Open final against Novak Djokovic. Nadal becomes just the seventh player to win all four Grand Slams in a career and only the second to also have an Olympic gold medal to his credit.
Winning the Open had been Nadal's ultimate goal since returning from a knee injury last year. He retooled his game to fit the hard courts at Flushing Meadows and it paid off. Rafa lost only one set in the tournament and, other than a brief moment after the two-hour rain delay Monday night, his victory in New York never seemed in doubt.
Nadal has three more Slams than Roger Federer did at the same age and now it's realistic to wonder whether he can top Federer's record of 16 Slams. Federer isn't done winning yet, but if Rafa stays healthy he's bound to get close to Fed's record and get in the discussion for greatest-of-all-time honors.
A more immediate issue will be winning the Australian Open, which would give Nadal the so-called "Serena Slam" (holding the title to all four Slams at once, but not in a calendar year). For the next three years at least, he'll always be a contender to win the actual Grand Slam, which hasn't been accomplished in the men's game since Rod Laver in 1969. With this win, Nadal becomes the first since Laver to even win the French, Wimbledon and U.S. Open in the same year. And Nadal's is a much more impressive feat since Laver won two of those tourneys on grass while Nadal did it on three different surfaces.
In his post-match comments, Djokovic said Rafa is currently the best player in the world. By the time his career is over, he may be the greatest who ever lived.
Rafael Nadal
Rafael Nadal
Rafael Nadal
Rafael Nadal
Rafael Nadal
Rafael Nadal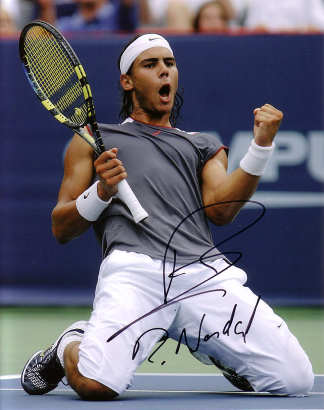 Rafael Nadal
Rafael Nadal
Rafael Nadal
Rafael Nadal