Swiss Davis Cup officials may have had enough of Federer
Roger Federer may have inadvertently burned some of his bridges with Swiss tennis, with officials now saying they will not shape their Davis Cup efforts to suit his whims and schedule.
Federer did not play in his country's Davis Cup relegation round tie last weekend in Kazakhstan. As a result, Switzerland now finds itself in the European zonal arena after taking a 5-0 hammering at the hands of the central Asians who were not even a factor in the game a decade ago.
Federer, now ranked third, has always played in September relegation ties to save his nation a place in the elite World Group. But after losing a US Open semi-final to Novak Djokovic, he opted out of the long trip east. New York semi-finalist Stan Wawrinka, Marco Chiudinelli and Yves Allegro were hopeless against the Kazaks in a weekend to forget.
Swiss Tennis is now striking back: "The door is still open for Federer but the team will not be unconditionally directed around him," said an official. "We will not allow professional organisation to be shaken."
Federer has played in 37 rubbers between singles and doubles, helping his nation into the 2003 semi-finals against Australia. But for the last five years he's only fronted up for the relegation rounds, a tactic which worked successfully until last weekend.
Roger Federer
Roger Federer
Roger Federer
Roger Federer
Roger Federer
Roger Federer
Roger Federer
Roger Federer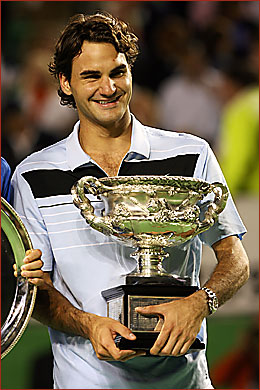 Roger Federer
Roger Federer