John Cena Has Been Listening to IWC Critics, and It Shows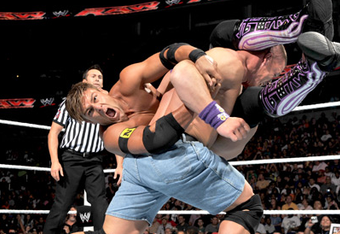 John Cena has never been one to let criticisms get to him, and I have always respected that about him. When he comes out to boos, he still gives it his all because he loves the business.
Many, including myself, have criticized the WWE's decision to make Cena the face of the company, but now I am starting to change my mind.
I will be the first to admit that Cena is nowhere near the best in the ring, but he has so many other qualities that propel him up the ladder.
His mic skills are great, even if he is spouting kid-friendly insults. He is one of those lucky few who picked up the verbal aspects of the game in a short amount of time, and now he can get most crowds riled up pretty quick.
He is also a hard-worker. Cena has been in WWE for around eight years, and he has never looked better. He is in top physical condition, and is rarely injured badly enough to keep him off TV.
His work ethic, combined with his charisma, makes him the perfect WWE spokesman.
His work with charity is also admirable. Cena has worked with various charities for years now, and he has been recognized by the Make-a-Wish Foundation for his contributions on multiple occasions.
But now it appears Cena is trying to up his game in the ring as well. For years, all I have read is that Cena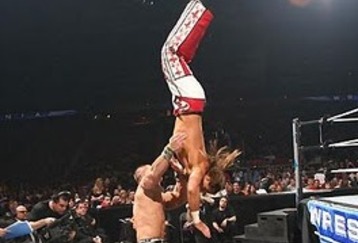 has three moves and can't really wrestle.
Well, anyone who has seen the past couple months of Raw and PPVs knows that Cena is adding moves to his list all the time.
During a recent match with Justin Gabriel, he performed some mat wrestling that looked really good, and even more recently he pulled off a great dropkick.
Now I know that a few moves here and there aren't going to make him the next Kurt Angle or anything, but I am happy he is trying to improve his in-ring skills because the fans always like to be surprised when someone pulls off something unexpected.
Cena has also helped put over a lot of guys recently, and to his credit, he has never once complained about being beaten by anyone.
Guys like Sheamus, Wade Barrett, and Miz have a lot to thank Cena for. He has had matches with them, and Cena made them all look great, perhaps even better than they really are.
I am not saying Cena is the best out there, but I have to commend him for making the effort to become more versatile in the ring.
John Cena
John Cena
John Cena
John Cena
John Cena
John Cena
John Cena
John Cena
John Cena
John Cena
John Cena
John Cena