It is chairs, this time! We take a look at some of the most creatively recycled chairs out there. There is no argument that some of these may not be the most comfortable ones to sit on, but there is also no denying the genius of their designers in thinking of new ways to add function to these objects.
First up, a chair made from gun shells! You never really know when they would come in handy!
Alexander Reh was dead serious when he said he would make a chair out of gun shells. The 'Fully Loaded' chair contains 450 .12 gauge shotgun shells, and are allegedly comfortable.
You have seen the gunshells. How about guns?
Spoons. Now you know what to do with those unwanted hard to recycle cutlery.
And if you happen to have those old wooden playbricks that you used to play with when you were a kid, how about shaping that into a chair?
If you thought the last 2 may not be comfortable to sit on, how about the Pencil Chair? Ouch!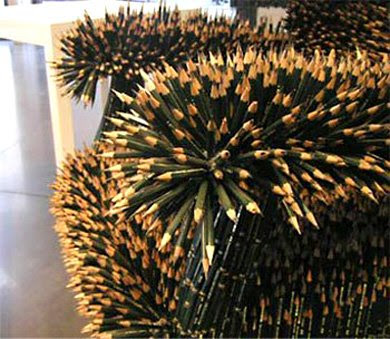 The meltdown chair: No, it's not the financial one, but we are talking about plumbing tubes. This chair by Tom Price is made by heating and fusing together common plumbing tubes.
Tom Price has apparently got more up his sleeve.
Chair made from clothes
Chair made from crumpled polypropylene sheets
Chair made from PVC hose
Chair made from rope
Curious how Tom makes these chairs? Check this video out on how he made the above chair:
The screw chair by Revol Design made from scraps of douglas fir and 3,726 drywall screws.
Tube Chair made from steel scrap.
We are just getting started. People have tried to make chairs from whatever stuff they normally throw away including old CDs…
wine corks…
…old bottles…
cardboard…
Combining green design sensibility and the freehand aesthetic of an architect's sketch (RD stands for 'roughly drawn'), Richard G. Liddle's magnificent RD4 Chair is made from 100% wasted plastic, which yields a very comfortable seat in a super-cool form.
old skies…
street signs…
…old bathtubs…
Carlos Alberto Montana Hoyos' sleekly styled lounge chair is a feat of both recycling and hand-crafted construction. Meticulously assembled using 1739 recycled aluminum can tabs, Hoyos' unique lounge chair incorporates traditional handicraft techniques with cutting-edge contemporary design.
…plastic bags…
bicycle tires…
soda cans(pretty good,no?)…
and even beer cans.
While most of us green-minded consumers have hopefully switched to reusable shopping bags by now, plastic shopping bags continue to be a huge source of waste. But Ryan Frank's Inkuku chair (which means "chicken" in Zulu), turns these pesky bags into design material using a traditional African craft technique. The result is a very brightly colored (and especially green) seat
One of our BKLYN Design favorites, this darling little stool by Uhuru is constructed from off-cut scrap wood pieces, all held in place using a recycled bike wheel. We love its tongue-in-cheek resemblance to a tree-stump, and love that the wood is recycled even more.
While not exactly ergonomic the adaption of a shopping cart into a chair seems rather reasonable once you see the result: a detailed and structurally-sound seat that bends and gives slightly where needed but also provides a good deal of support and a place to rest one's arms. Still, these and other shopping cart chairs might be better suited to a BBQ setting than to a formal dining set.
Old sports equipment has a way of accumulating. Some things we outgrow, some things we 'replace' only to find the originals later behind some pile in the garage. Instead of discarding all of that stuff why not find a clever way to reuse it? Maybe the skateboard table or baseball bat chair aren't your style but perhaps you know a sports fan in need of a sporty recycled furniture birthday present.
Not every piece of 'recycled furniture' has to be fancy. These crushed-can furniture pieces are extremely simple in theory but quite colorful in practice. They aren't suited for every interior design scheme but they are robust and would work great for outdoor furniture in a rugged environment. After all, would anyone really notice the rust on these?