Danica Sue Patrick (born March 25, 1982) is an American auto racing driver, currently competing in the IndyCar Series, the ARCA Racing Series presented by RE/MAX and Menards, and the NASCAR Nationwide Series, as well as a model and advertising spokeswoman. Patrick was named the Rookie of the Year for both the 2005 Indianapolis 500 and the 2005 IndyCar Series season. With her win in the 2008 Indy Japan 300, Patrick became the first woman to win an Indy car race. Patrick currently drives the #7 GoDaddy.com Honda/Dallara for Andretti Autosport. In 2010, Patrick began racing in the NASCAR Nationwide Series, driving the #7 GoDaddy.com Chevrolet Impala for JR Motorsports part-time. She also has an equity stake in her #7 team.[1] She placed 3rd in the 2009 Indianapolis 500, which was both a personal best for her at the track and the highest finish by a woman in the event's history.
Danica Patrick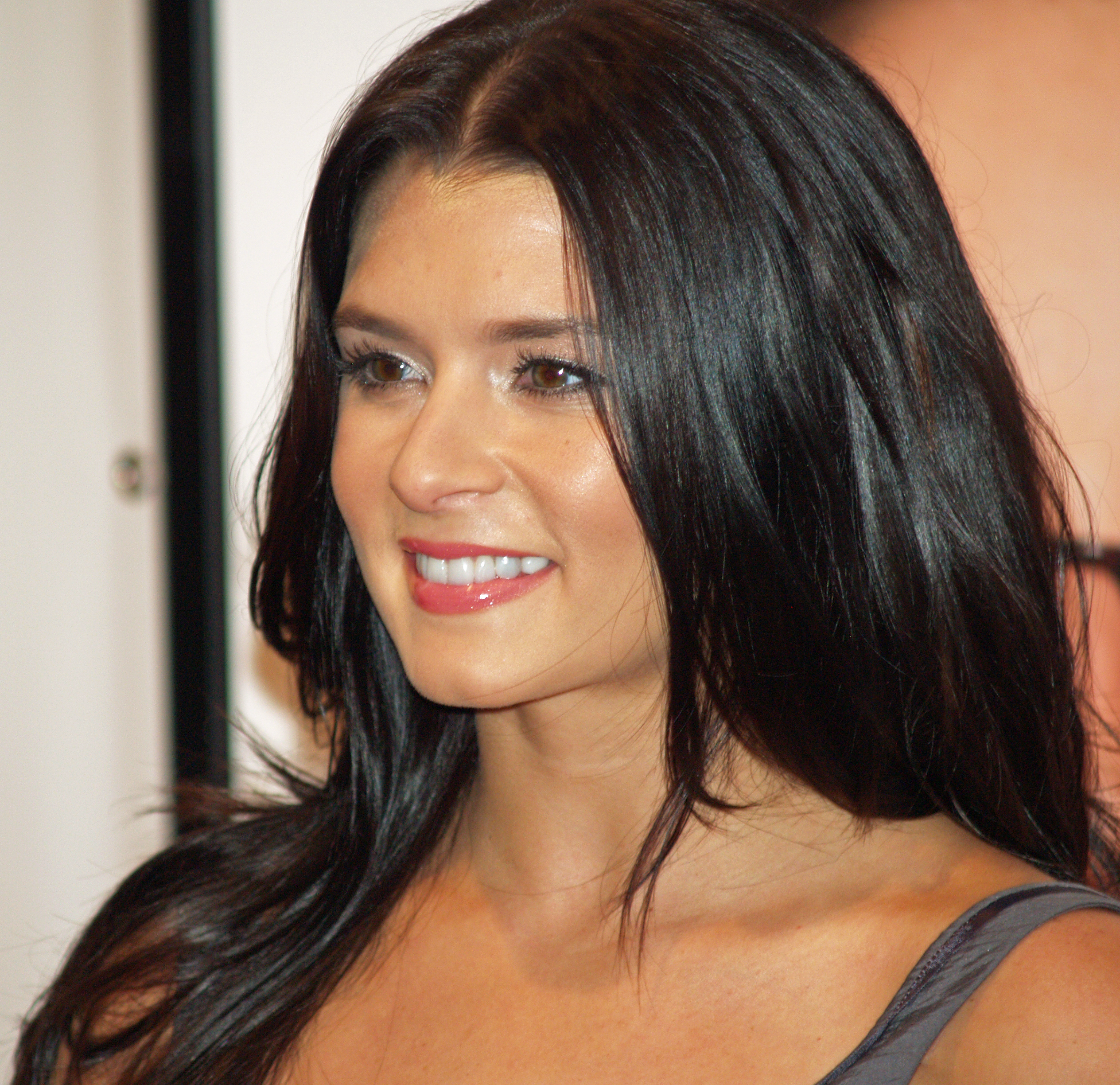 Danica Patrick
Danica Patrick
Danica Patrick
Danica Patrick
You could say Patrick's first seven Nationwide races blew. Her best finish was 24th at Chicagoland Speedway. She's finished 27th or worse in the rest, including a 35th on Saturday.
But if you witnessed Patrick a few hours before the race, as she entertained a crowd of about a thousand under the giant Monster Mile statue outside the track, you'd know there are reasons beyond her goal of a top-15 finish that make her important to the sport's future.
Let me introduce you to 10-year-old Anna Miller of nearby Newark. She was standing near the back of the crowd with her father, Jim, on this hot, muggy afternoon. She was dressed in a lime green GoDaddy.com shirt with Patrick's face painted on the front.
She also was wearing a black baseball cap with GoDaddy.com on the side and "Girl Power" on the front.
"Danica is the only reason we are here," her father said.
And why?
"She's a girl racer," Anna said in a soft voice.
Exactly. As much as you want to pick on Patrick for her lack of success in moving from Indy cars to stock cars, NASCAR needs a successful female racer.
The fans seem to think so, too. The question most wanted answered was when will Patrick make the jump to the Sprint Cup Series. Patrick gave her patented answer, that she'll drive a full-time IndyCar schedule again in 2011 and a part-time Nationwide schedule.
That doesn't mean she won't jump into a Cup car late this year or sometime next year to see what she can do.
There also was interest in what Patrick says on Twitter, how often she gets caught speeding and who influenced her to get into racing.
For the record, she tweets about sewing and cooking as well as racing, she gets "a lot of speeding tickets" and she has been influenced by a lot of people but just wants to be her.
"I always wanted to be the first me and not somebody else," she told the crowd.
There was applause after every answer, but the biggest came when she talked about her sixth-place finish in Friday's K&N Series East race at the Monster Mile.
You sense the fans, at least these fans, want her to succeed almost as much as she does.
It hasn't happened so far, but Patrick isn't giving up on her goals.
"NASCAR has been a humbling experience itself," she said. "For me, it's been more emotional than anything. I enjoy being busy, I like it. I'm lucky to be busy. Not every driver gets to be busy, and it's all for good reason. It's part of what I signed up for, and I'm enjoying it."