Jelena Dokić (Serbian: Јелена Докић; born 12 April 1983) is an Australian female professional tennis player.
During the height of her career, she played for Serbia and Montenegro (Federal Republic of Yugoslavia prior to February 2003) and reached a career-high ranking of World No. 4 on 19 August 2002. After several family-related difficulties (mostly involving her father[2][3][4]), she slowly slipped down the rankings in 2006. She made a serious return to tennis in 2008, and after winning three ITF tournaments that year, rose to World No. 187 going into the 2009 Australian Open. She finished 2009 in the top 100, where she remains today.
The highlights of Dokić's career include reaching the semifinals at Wimbledon and the Sydney Olympics in 2000 and reaching the quarterfinals at the French Open in 2002 and the Australian Open in 2009. Other highlights include beating several former World No. 1 players: Martina Hingis in the first round of Wimbledon in 1999, Kim Clijsters at the 2003 Zürich Open, and Venus Williams at the 2000 Italian Open. Other high-calibre players whom Dokić has defeated include Jelena Janković, Monica Seles, Justine Henin, Amélie Mauresmo, Mary Pierce, and Jennifer Capriati.
Jelena Dokic
Jelena Dokic
Jelena Dokic
Jelena Dokic
Jelena Dokic
Jelena Dokic
Jelena Dokic
Jelena Dokic
Jelena Dokic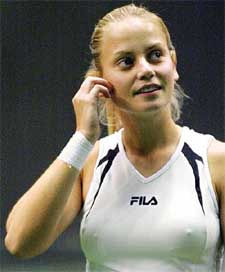 Jelena Dokic